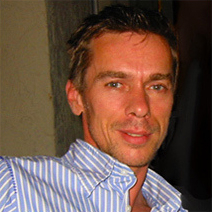 Sebastian Pataric is a freelance fashion stylist whose work has appeared in fashion magazines, newspapers and catalogs all over the world. Originally from a small town on the border of Italy, Austria and Slovenia, Sebastian studied textiles and fashion design.
Before landing his first job as a pattern maker. Inspired by a combination of European, Japanese and American designers including Dries Van Noten, John Paul Gaultier, Ann Demeulemeester, Commes des Garcons, Yohji Yamamoto and Donna Karan, Sebastian made a name for himself in the fashion world quickly.
By 27, he was a much sought-after fashion, advertising and celebrity stylist working regularly with clients in Amsterdam, Vienna-Austria, Switzerland and Germany. Now in the U.S. for over a decade, Sebastian uses his 15 plus years of experience and highly developed sense of style on advertising, editorial and high-end catalog assignments. Beyond fashion, he continues to be inspired by interior design, textiles and graphic arts. Sebastian divides his time between residences in New York and Miami.